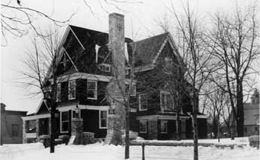 Built in 1894, the Carlisle House is a Queen Anne style residence with three stories. The House was designed by architect Robert L. Braunsdorf, and was built on the southeast corner of the original Studebaker estate. Late in the twentieth century, two additions were built onto the back of the Carlisle House. The home's many features include two large built-in safes, detailed woodworking, and eleven fireplaces.
The Carlisle House is named after its original occupants, Charles and Anna Carlisle. Mr. Carlisle was a director and purchasing agent for the Studebaker Bros. Manufacturing Co. Mr. Carlisle worked in the railroad industry in his home state of Ohio before moving to South Bend in 1892 to work for the Chicago and South Bend Railroad. He also went to work for Studebaker at that time, serving as purchasing agent and chairman of the advertising and traffic committees.
In 1891, Mr. Carlisle married Anna Studebaker, the only daughter of Clement Studebaker—one of the founders and president of Studebaker Manufacturing Company. Clement Studebaker also built the stunning Studebaker Mansion (now Tippecanoe Place), which can be seen from many windows.
While living in the Carlisle House, Mr. and Mrs. Carlisle had seven children. Mr. Carlisle was known locally for having collected one of the most extensive private libraries in South Bend. Today, the library serves as Scott Keller's office.
When the carriage house was torn down in 1968, a metal box was discovered in the cornerstone. Inside the box was a variety of historical items from the Carlisle family. A May 14, 1901 edition of the South Bend Tribune, photographs of the Carlisle family, and souvenirs from the Pan American Exposition of 1901 were among the items.
The box also contained a letter signed by Charles Arthur Carlisle addressed "To the future generations, greetings…" The letter went on to list all members of the family present at the ceremony, and traced the genealogy of the Carlisle-Studebaker-Milburn family. There were also copies of Carlise's correspondence with Rev. J.M. Tyrone, of County Tyrone, Ireland, tracing Carlisle's effort to complete his family tree to include his Irish ancestors.
Anderson, Agostino & Keller, P.C. purchased the Carlisle House in late 2001 and undertook substantial renovations before moving into the new offices in May, 2002.